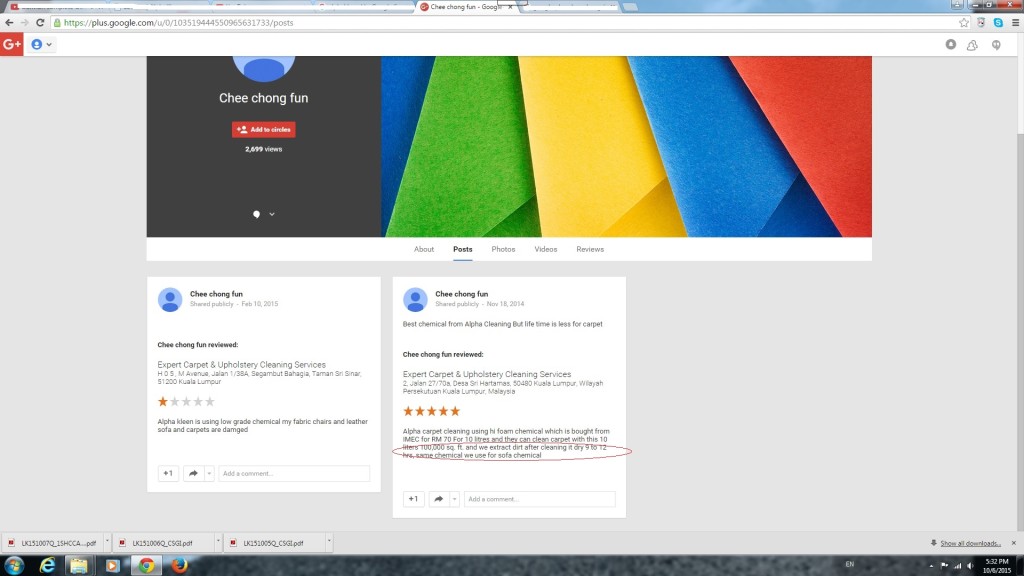 We notice a very inappropriate & unethical behavior from the Google Plus user "Chee chong fun" or you may find the eveidence yourself  here
This user reviewed on our google plus page Expert Carpet  & Upholstery Cleaning Services that we have damaged her fabric chairs & leather sofa & carpet. But about a year ago, she reviewed on our chemical quality and saying how "cheap" our chemicals are. on the circled red area above, she accidentally exposed herself that she is actually from other company doing similar business. Notice that she reviewed "AND WE EXTRACT DIRT AFTER CLEANING IT DRY 9-12 HRS. SAMES CHEMICAL WE USE FOR SOFA CLEANING". Clearly, she is in similar cleaning business and trying to write a poor review on us.
THIS IS SERIOUS MATTER, AND IN ORDER TO PROTECT THE BRAND OF OUR BUSINESS, WE ARE SEEKING LEGAL ADVISE ON DEFAMATION & UNETHICAL BUSINESS ACT.