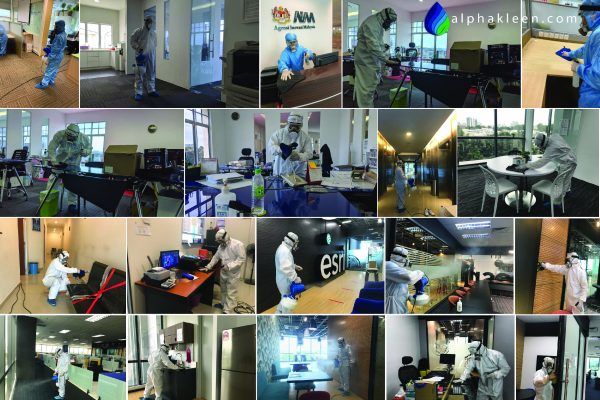 Virus disinfection & fumigation – just how many of us thought about this and embraced this way of hygienic cleaning technology become the COVID 19 world pandemic begun? 
With the widespread of COVID 19 Coronavirus globally, we have once again witnessing what viruses can do to our health. 
The fact that the virus is invisible to our naked eyes and cannot be detected via any devices makes it hard to be traced & eliminated. The virus could be anywhere. The door knob, escalator belt, buttons of the lift, on your phone, on the ground, or even on your cash notes. Worst part of all, the virus is tiny & light enough to be airborne and hence it could be in the air you breath!  
Good personal hygiene practice will be the key for us to overcome this global pandemic. Of course, there will be irresponsible people that become the "super-spreader", but individually, we can do our part to ensure maximum defense at all time. Yes, it may not be 100% to prevent the spread of the virus, but the chances are greatly reduced. 
OUR DISINFECTANT:
Of course, with the help of research and advance technology, we are able to further reduce the chances of virus transmission. Alphakleen utilizes disinfectant solution imported from Singapore. Not only the disinfectant is effective against dangerous pathogens micro bacteria or even viruses, but it's also non toxic, biodegradable & PH neutral. 
There are many different grades on disinfectant in the market, but not all are created equal. Our disinfectant is made in a Singapore Certified ISO22000 Food Safe Facility. That means it's made in a controlled environment to ensure no bacteria or virus contamination in the disinfectant. Obtaining an ISO2200 Certificate for a disinfectant to ensure the disinfectant is of the best grade possible. 
Moreever, our disinfectant has been lab tested in a Germany Lab Test Company Based in Singapore, and it's certified to be effective, with an active ingredient that is able to eliminate COVID-19 successfully. The same disinfectant is being used at the famous Singapore Changi Airport which successfully prevented further spread of the COVID-19 virus. Now, you can provide greater protection to your family, friends, and even fellow colleagues too. 
Effective against the following viruses: feline-pneumonitis, measles, canine distemper, meningo-pneumonitis, rabies, vaccinia, herpes simplex, foot and mouth disease enterovirus, corona type virus
Effective against the following bacteria: Listeria monocytogenes, Bacillus cereus, Staphylococcus aureus, Staphylococcus typhimurium, Pseudomonas aeruginosa, Escherichia coli
KEY BENEFITS:
√   Alcohol Free & Petro-Chemical Free, Water-Based Solution
√   PH Neutral, Biodegradable, Non Toxic, Food Safe & Child Safe
√   Eliminate Pathogens, Bacteria, Viruses & COVID-19 Effectively
√   Approved Disinfectant Ingredient by Kementerian Kesihatan Malaysia (MOH)
√   No Side Effects, Let You Have a Peace of Mind
√   Made of Biodegradable Environmental Friendly Ingredient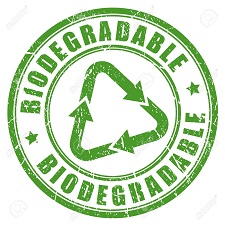 √   Made in Singapore, ISO 22000:2005 Certified (Made in Food-Safe Facility)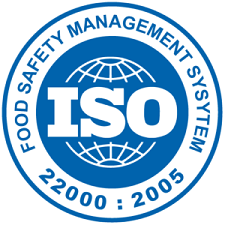 √   Tested & Certified by TUV SUD (Germany Company) in Singapore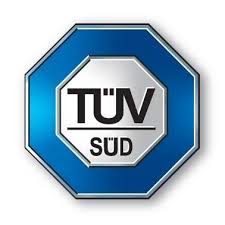 RESULT :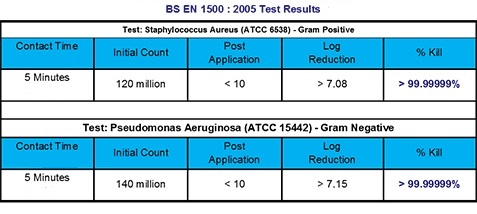 Specimens used for the lab test were Staphylococcus Aureus & Pesudomonas Aeruginosa, the primary culprit that is very similar to COVID 19 that causes pneumonia & infection to the lung. Results shows were elimination of 99.99999% of the bacteria in under 5 minutes of contact with our fumigation solution.
In summary, it is highly effective in killing micro-bacteria, even the nasty type.  
Staphylococcus Aureus (Cause pneumonia, food poisoning, toxic shock syndrome, skin diseases and blood poisoning), is able to survive on dry surfaces for months. Even so, it didn't last more that 5 minutes with our disinfectant.
Pseudomonas Aeruginosa (Cause aggressive infection in the blood & lung)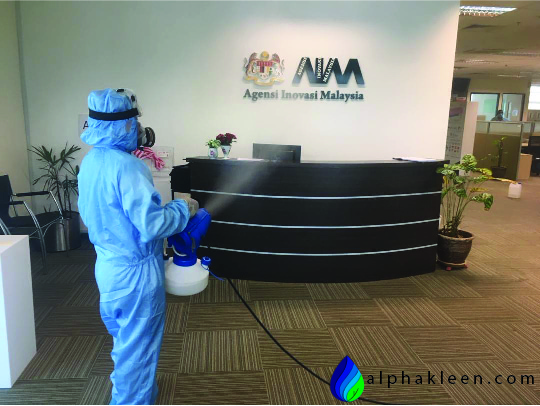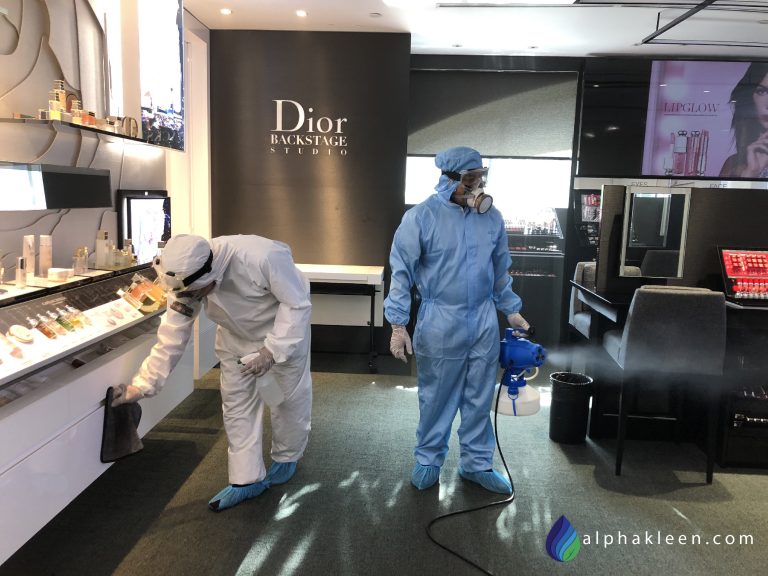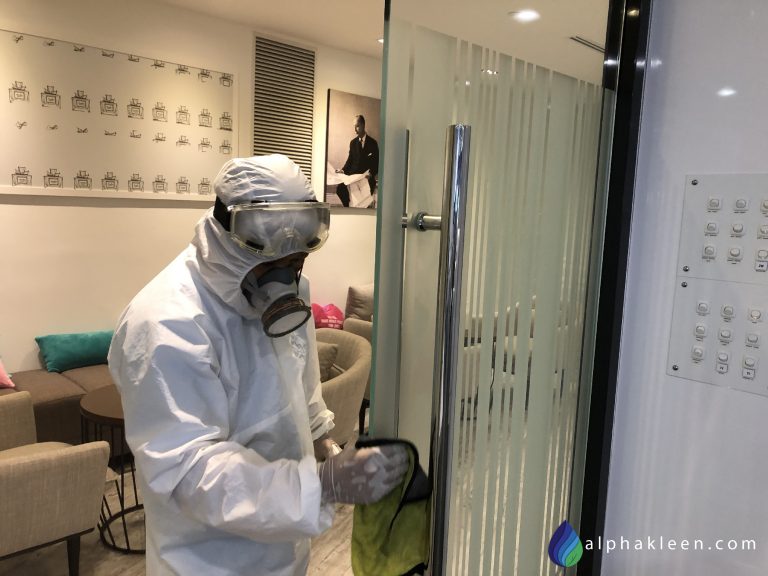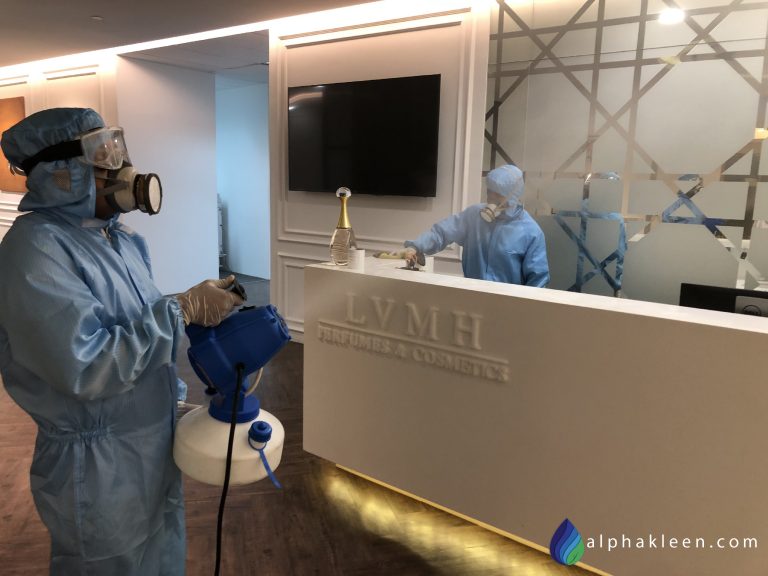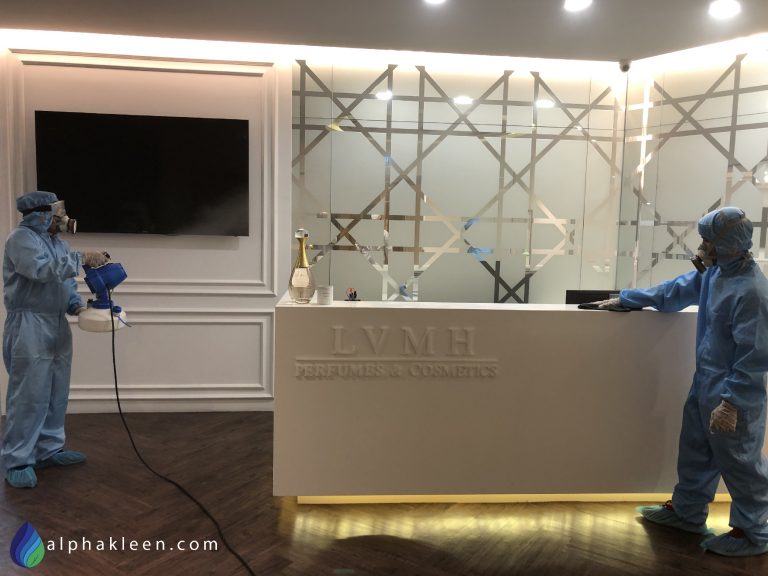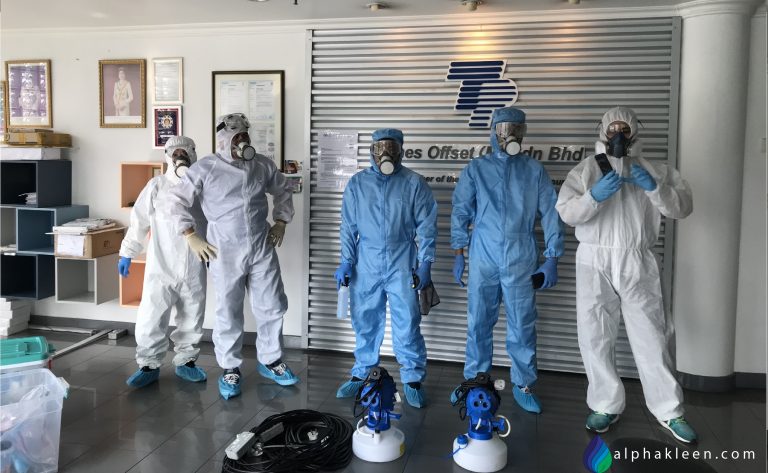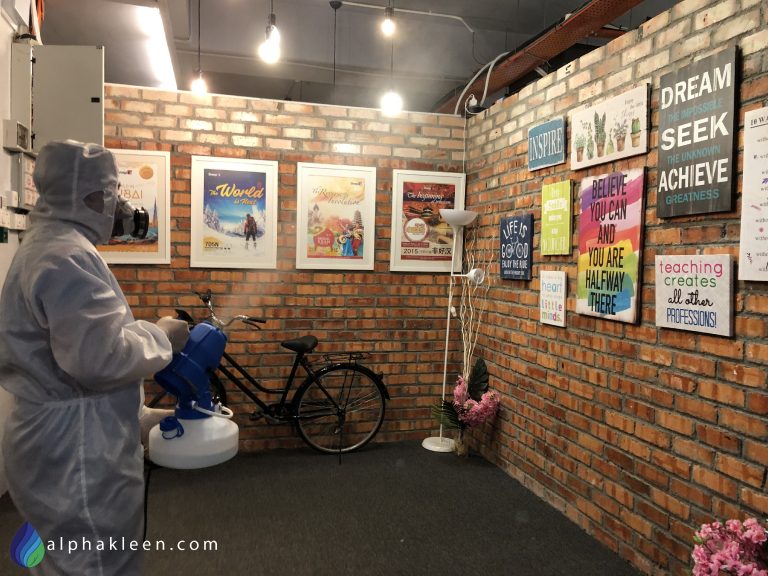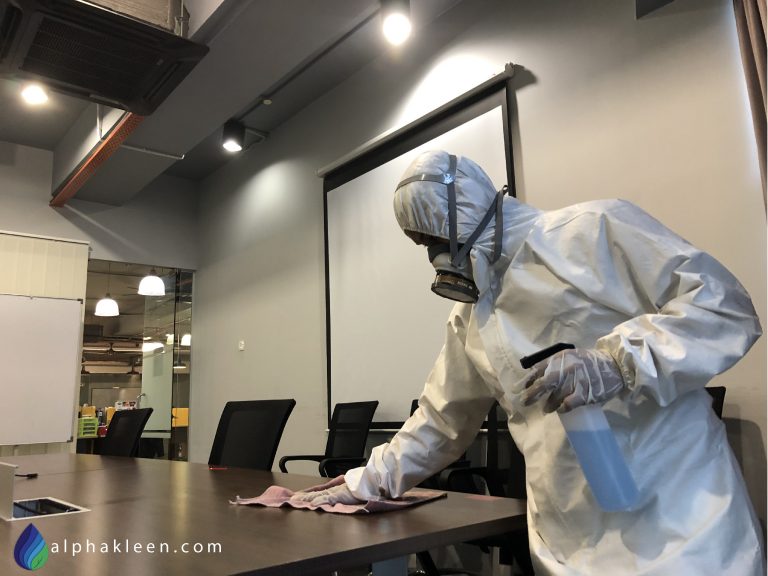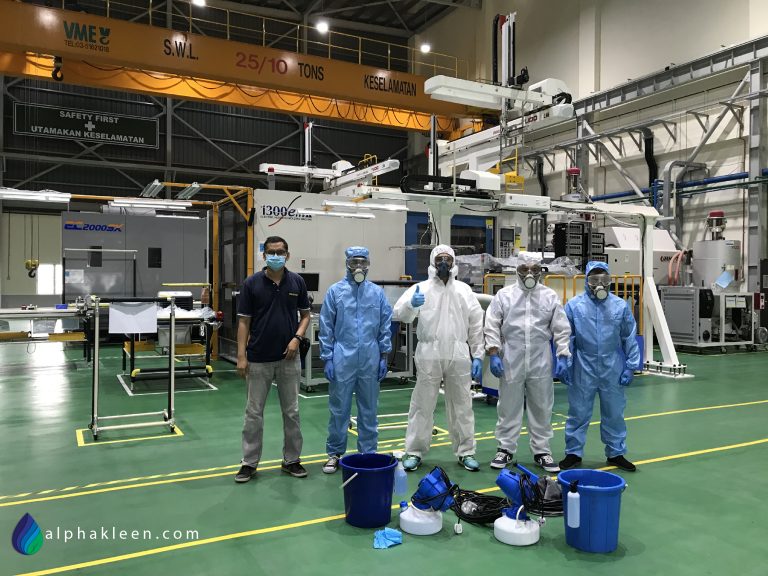 HOW IT WORKS :
The disinfecting process involves a cold fogger to spray the water-based disinfectant into very fine mist of 10 micron size (for reference a red blood cell is 5 micron). The fine mist of disinfectant will be able to get into direct contact with most of the surfaces and area (including walls, ceiling, floors) especially the airborne viruses, hence killing the viruses. After the disinfecting process the entire indoor area will look very "foggy" which is perfectly normal, the fine mist of disinfectant is able to airborne for at least 15 minutes to ensure all viruses in the air are being eliminated too.  
Prevention is always better than cure. Alphakleen is here to ensure your workplace & your home a safe heaven. 
Do Call/Whatsapp Us @ +60163391665 / +60126688934 for more info today or write to us at support@alphakleen.com today. 
We are inline with the global effort to ensure we get rid of this pandemic too. Rest assure that Alphakleen WILL NOT take advantage of the current situation, and will provide services & supports as swift as possible, yet at reasonable price. Call Us Today. We Provide Fumigation Fogging Disinfecting Disinfection Service for Factory, Warehouse, Residential Unit & Office in Kuala Lumpur KL, Shah Alam, Klang, Seremban, Melaka, Petaling Jaya PJ & Klang Valley. 
Kita Sedia Menjalankan Kerja-Kerja Nyah Kuman, Nyah Virus, Membasmi Kuman dan Membasmi Virus untuk Sebarang Kilang, Rumah, atau Office. Hubungilah Kita Sekarang