Cleaning Tips from Professional Cleaning Services Provider
How to remove Curry/Oil or Chili oil stain?
Malaysia is known for the great food culture around the world, especially our spicy foods. The sambals, rendang beef, chicken curry… Yum yum! Some of us even claims to not be able to eat a meal without chilies or curries. But what happens when while we were enjoying these wonderful delicacies with our friends and family, we accidentally stain our expensive or favourite clothes with curry?? Fret not, AlphaKleen Professional Cleaning Services, is here to help!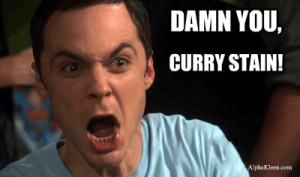 First when you got the stain, DO NOT wash with water or chemicals immediately.
Use baby powder to pour on the stain spot. If you don't have baby powder, you can try using flour or even baking powder. It will absorb the oil in the fabric quickly. Apply the powder for 30sec to 1min then you can start washing off the stain.
Repeat the process one or two times if needed, but it is usually effective the first time round.
If you cannot find any powder quickly, the next thing you then can try is use any detergent you can find. It's not going to be as effective but at least it will remove some of it. If you are lucky, the stain maybe removed too even with just detergent.  The one thing you should not try though, is using just tap water. It will not help at all and may even spread the oil stain.
If you have any stain related problems,  difficulty in removing stains for furniture, carpet, curtain or even mattresses, you can engage in our cleaning specialist service as well. We provide free consultation and site visit.
Feel free to contact us @ +6012 6688 934 or even email us at support@alphakleen.com for more information.