Our carpet cleaning philosophy is simple – it must be pleasant looking, and hygienically cleaned. Since 2010, Alphakleen has done over a total 5 million square foots of carpet cleaning all over Malaysia. The focus of our company has always been on constant improvement, utilizing innovative approach to add values to our customers.
IMPORTANCE OF CARPET CLEANING
Carpet cleaning is often neglected. Mind you, it is often not easy to find time to get a proper maintenance schedule for a piece of furnishing in our office, or our carpet at our home. Below are 9 reasons why it shouldn't be neglected: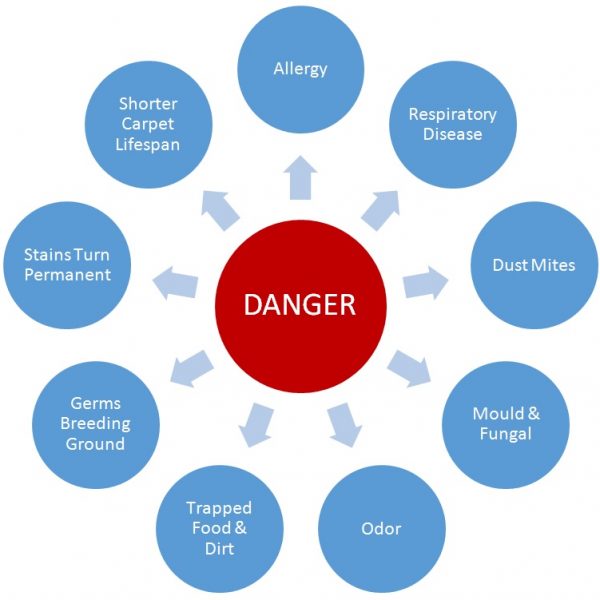 Knowing the danger we have to possibly live with everyday, AlphaKleen has developed a unique carpet cleaning system that not only guarantees to make your carpet look clean, but also, eliminates the unseen hazardous dangers that might be affecting your health. All these, to be done professionally by our senior technician that has accumulated more than 60,000 Hours in the field of carpet cleaning. What's more, Alphakleen uses combination of cleaning solutions including certified green & natural solutions from Singapore too. Our cleaning system is one of the safest process and offers you a peace of mind while getting your carpet cleaned. 
CARPET CLEANING SYSTEM & TECHNOLOGY
Alphakleen carpet cleaning system has been developed since 2012. Since then, it has received numerous update and improvement over the years. The entire carpet cleaning system can be divided into 3 process, mainly the Encapsulation, Extraction, and lastly, Sanitation.  
Encapsulation is a chemical process of binding between the cleaning detergent with the dirt particles in the carpet. This process is further enhanced with the use of rotary buffing machine. The detergent is applied to the specialized 3M shampooing pad and "shampoo" the carpet at low speed. Bubbles are generated during this process to make the encapsulation process more effective as bubbles have a larger area to react with the soiled carpet. Furthermore, it ensures deeper area of the carpet will be cleaned as well.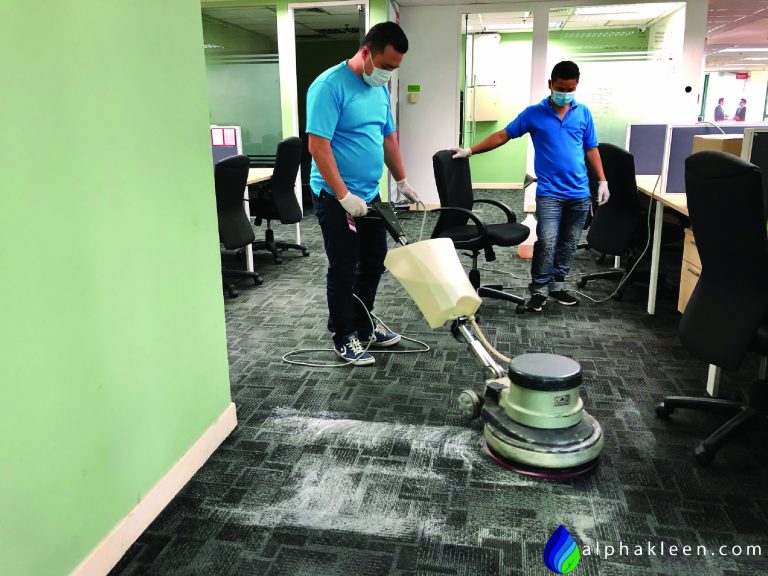 Our extractor is unique. It incorporates spraying of clean water and vacuum extraction at the same time. 
As shown in the picture, the extractor will spray a good amount of clean water onto the fabric, moments just before the extraction take place. This is because we do not want to further dampen the carpet for too long, causing the soiled water to sink deeper. 
With 10x vacuum extraction power as compared to the regular vacuum machine in the market, micro-organism such as dust-mites & allergens will be removed via the extraction process as well.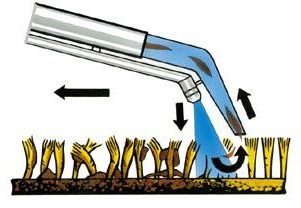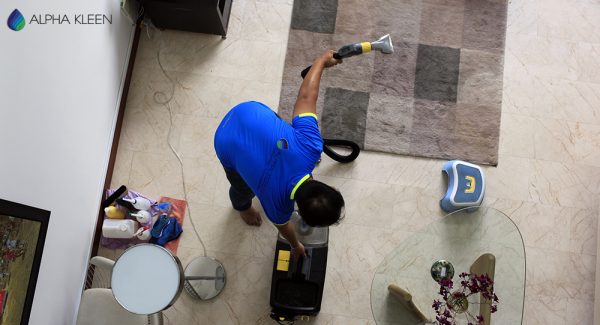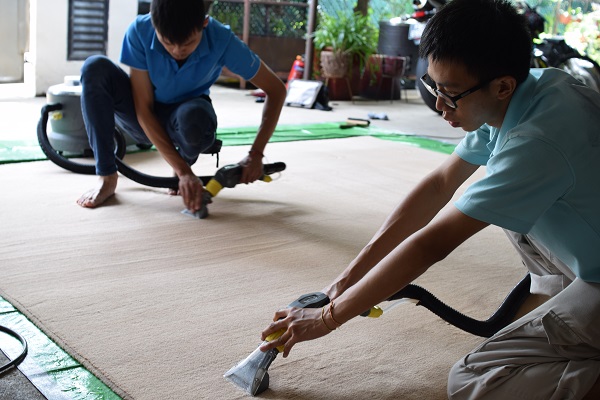 We have a team of carpet cleaning experts that has been with us for so many years and till now, we have not damaged any carpet at all, and we have cleaned 4,500,000 Square Foot of carpets! We are committed to provide the best customer service and quality cleaning for our customers whether it is residential or commercial.Please feel free to contact us for a free quotation. Our 3 promises to you:
1. Best Corporate Rate for Office Carpet in KL & Klang Valley
2. Best Quality of Workmanship & Customer Service Experience
3. Satisfaction Guaranteed or Your Money Back
SOME OF OUR SATISFIED CLIENTS SINCE 2010: